Name:Downhole motor
Product details
Down-hole motor is a kind of downhole drilling tool powered by mud. The mud from mud pump enters motor by way of bypass valve, and a pressure drop between motor inlet and outlet created, such pressure drop will drive the motor rotator to rotate, and transmit the torque and rotary speed to bit by universal shaft and transmission shaft. The downhole motor property mainly depends upon its property parameters. This product uses the high and new technology of coating to avoid coating off of rotors resulted from the traditional technology. Its strength and life are greatly improved. It is applicable to directional drilling horizontal drilling, composite drilling, cluster wells, sidetrack wells and well workover etc.
Downhole Motor Configuration Option
Unifrom Thickness:Reasonable to change the shape of stator housing, the stator elastomer layer of Unifrom Thickness downhole motor is thin and even. The characteristics of the downhole motor are short length, high power, high pressure drop, low rotate speed, high cooling efficiency, even thermal expansion, more widely used, more optimized structure and the lighter mass. Especially, the characteristics can prolong downhole motor's life and improve drilling efficiency in the ultra-deep well, directional well and high temperature well.
Resistance High-temperature And Oil Based Mud:The downhole motor is suitable for high-temperature, high oil base mud system. In the conditions of less than 180°C and high oil, specially formulated stator elastomer owns high retention rates of strong force strength, tear strength and other properties. The oil-resistant elastomer with reasonable magnitude of interference has better using effect in the high-temperature, high oil base mud.
Corrosion-resistance:After corrosion spraying to form special coating, the rotor is better corrosion, erosion and abrasion-resistant. And downhole motor is suitable for long time in the corrosive fluid.
Air Drilling:Air drilling can protect reservoir well, improve rate of penetration, significantly shorten drilling period, take precaution against mud loss and borehole collapse, now is gradually widely used. Air drilling downhole motor is driven by gas, foam and other compressible fluids, provide power for the downhole and drives bit to penetrate rock. Air drilling downhole motor has higher technical requirements of the assembly structure, linear design of the motor stator and operation specification.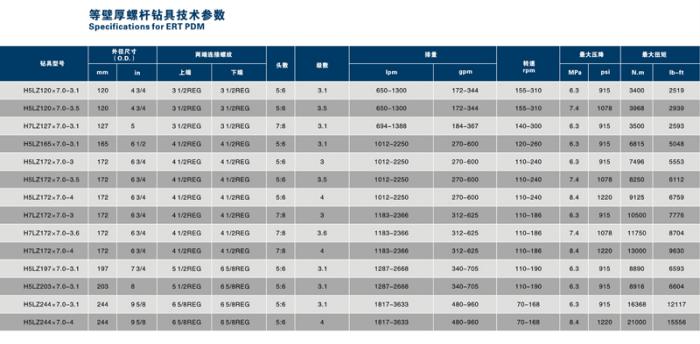 Related products